Enemies
Jaqeus and Josse Known As The ice dancers the first time they talked was in finland episode 11 they said wow is that a lava rock then they gasp and said what this was cursing you all this time then they said how do we let the bad luck go away the goths said drop it anywhere in hawaii then they gasp again.
☀
second time they were talking was in episode 18 the goth took first then the ice dancers were annoyed then in Vegas the goths took first again they were more mad then in episode 20 when they were eliminated . because they had a rabbit Loki they brought him in episode 14 than he stole it then when they were trying to find him it cost them the race then when they were eliminated they hoped that the ice dancers get what they deserve
Crimson & Ennui
[[1]]
Team Profile
Members
Crimson
Ennui
Gender
Ennui - Male

Crimson - Female

Age
17
Voiced By
Ennui - Carter Hayden

Crimson - Stacey DePass

Relation
Couple - 3 years
Occupation
The Halloween Goths

---

1

Legs Competed
20.
Placement
7th
Gallery
Link
Enemies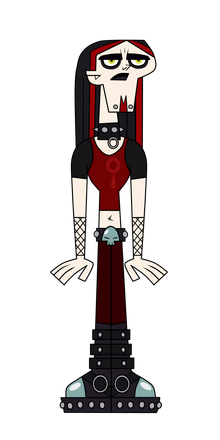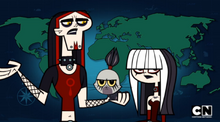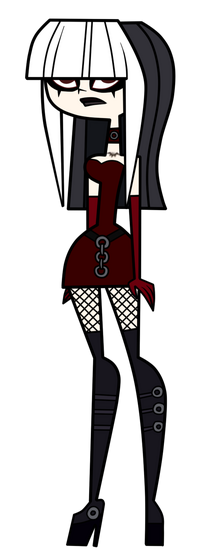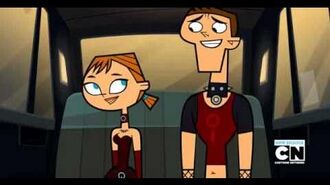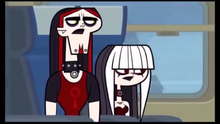 Crimson and Ennui are a pair of Goths competing on The Ridonculous Race.
The Goths are dark and silent. It's uncertain as to why they're participating in the Race or if they're even enjoying the experience, since they both have the emotional range of a stone gargoyle except for when encountering dark areas like Romania and they end up smiling at one point.
Personality
Edit
Both express their emotions most of the time by stating them apathetically instead of showing it. If excited enough, they will break the rules regardless of the penalty, such as with the coffin race. They both hate adorable things (now excluding rabbits). They eventually adopt a black bunny they turn goth and name Loki.
Loki is a black rabbit. He does not fear vidan. Loki was found in Australia. Loki really helped the Goths to win in Indonesia, but also he also was the reason of the goths losing. Loki is named after the God of destruction.
She tends to talk more often than Ennui and more likely to get excited. She tends to speak about their overall feelings, as well as, about the items or events they enjoy.
He's more likely to talk about matters involving location or about bands or facts about gothic architecture or general goth knowledge. Adorable animals have an attraction to him which makes him very uncomfortable.
Race History
Edit
Episodic Placement
Edit
Episode 1: 14th
Episode 2: 14th
Episode 3: 13th
Episode 4: 8th
Episode 5: 1st
Episode 6: 2nd
Episode 7: 12th
Episode 8: 10th
Episode 9: 7th
Episode 10: 8th
Episode 11: 10th
Episode 12: 8th
Episode 13: 7th
Episode 14: 5th
Episode 15: 4th
Episode 16: 4th
Episode 17: 6th
Episode 18: 1st
Episode 19: 1st
Episode 20: 7th (eliminated)
Memorable Moments:
Edit
Crimson finally speaking in Episode 5, and them winning the challenge.
Their make up coming off in Finland, causing them to want to quit until they have newfound confidence with temporary costumes.
Ennui revealing cuddly creatures love him.
The adoption of Loki.
Winning twice in Episode 18 and 19.
Their elimination speech which showed they hoped the Ice Dancers get what is coming to them along with Loki signaling that they will get their karma.
Crimson and Ennui are the only team that did not say a single word during the first episode of Ridonculous Race.
Crimson & Ennui seem to resemble Kent & Vyxsin from The Amazing Race as both teams are goths.
In the fifth episode (where the contestants go to Iceland), Crimson explains that most of her and Ennui's favorite bands/musicians are from Iceland, which is part of how they know so much about Icelandic culture (including knowing how to speak in Icelandic).
In the episode where the contestants go to Finland, Ennui offhandedly mentions that he and Crimson have been dating for three years (as the creators have stated that Ennui and Crimson are both 17, they must have been 14 when they first started dating) and during that time, they've never seen each other "un-Gothed."
Leonard and Tammy (one-sided, their side)