Leonard and Tammy
Team Profile
Members
Leonard
Tammy
Gender
Female - Tammy

Male - Leonard

Age
16 - Leonard and Tammy
Voiced By
Clé Bennett (Leonard)

Nicki Burke (Tammy)

Relation
Friends

---

1

Legs Competed
2
Placement
18th
Gallery
Link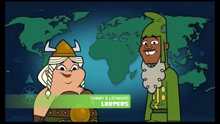 Leonard and Tammy are The LARPers competing in Total Drama Presents: The Ridonculous Race.
Pahkitew Island's wizard Leonard is back! He brings his wacky, fantasy-laden brain and "live-action role playing" reality to The Ridonculous Race but this time around, he has an equally imaginative friend: Tammy!
Both love to turn every day moments into scenes from their own made-up world… so imagine what the adventure of a race around the world will bring to the party! Huzzah!
Personality
Edit
Leonard Leonard is a passionate LARPer (Live Action Role Player). He dresses like a wizard and believes he has magic powers. He always carries around his spell book, chanting whenever something goes awry. Like many Total Drama contestants, Leonard seems to mean well, but his mind is not in the right place at the appropriate times. He is very passionate about his wizardry and persists on his spells no matter how ineffective they seem.
Tammy loves to turn every day moments into scenes from her and Leonard's own made-up world. Just like Leonard, she believes she can perform real magic.
Race History
They were the first team to get eliminated.
In, None Down, Eighteen To Go Part-1,
Episodic Placements
Edit
Episode 1: 13th
Episode 2: 18th (Eliminated).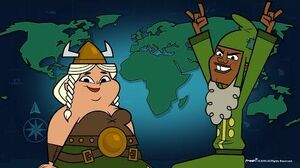 Memorable Moments
Edit
Leonard is one of only four Total Drama veterans who are competing in The Ridonculous Race. The other three are Noah, Owen, and Geoff.
Leonard is the only contestant in The Ridonculous Race who also competed in Total Drama Pahkitew Island.
Leonard is the first contestant from the third cast of Total Drama to meet a contestant from the first cast