Owen & Noah
Team Profile
Members
Owen
Noah
Gender
Male (Owen and Noah)
Age
19 (Owen and Noah)
Voiced By
Scott McCord (Owen)
Carter Hayden (Noah)
Relation
Best Friends

---

1

Legs Competed
18
Placement
8th
Gallery
Link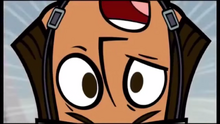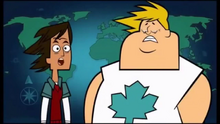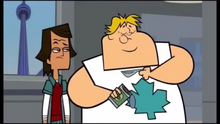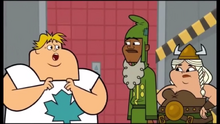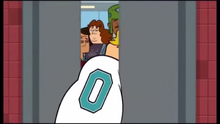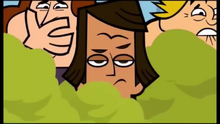 Owen & Noah are The Reality TV Pros competing in Total Drama Presents: The Ridonculous Race.
Personality
Edit
Owen is fun-loving, and is always willing to spend time with his little buddy, Noah. He loves Izzy. He is psyched to compete and travel around the world and meet new people he's also ready to eat/fart any time.
Noah is snarky, cynical, and believes that he and his partner, Owen, will not be able to win the Race.Noah loves Emma. But he will not turn down an opportunity to travel around the world.
Race History
Edit
In None down, Eighteen to go part 1 Noah mentions he has his eye on the money but when Owen mentions food Noah seems to be angry at Owen.
In French is an Eiffel language they get a penalty due to Owen eating their cheese raft which almost gets them eliminated.
In 'A Tisket, A Tasket, I'm Gonna Blow A Gasket', Noah develops a crush on Emma and in 'Hawaii Honeyruin'. Owen thinks Noah is 'dying' but when Kitty explains Noah likes Emma the two start trying to get them together in 'Hello and Dubai'.
Episodic placing
Edit
Episode 1: 6th
Episode 2: 8th
Episode 3: 16th (Received 20-minut

e 

time penalty)
Episode 4: 2nd
Episode 6: 12th
Episode 7: 2nd
Episode 8: 4th
Episode 9: 2nd
Episode 10: 3rd
Episode 11: 11th
Episode 12: 6th
Episode 13: 5th
Episode 14: 6th
Episode 15: 9th (Last Place) (Non-Elimination)
Episode 16: 8th
Episode 17: 4th
Episode 18: 8th (Eliminated)
Memorable Moments
Edit
They were almost elimnated in both 'French is an Eiffel Language' and again in 'I love Ridonc and Roll'.
Noah developed a crush on Emma in Season 1 Episode 7, 'A Tisket, A Tasket, I'm Gonna Blow A Gasket".
They formed an alliance with the Sisters in Dubai,You might find that in Episode 9, 'Hello and Dubai' with the Sisters.
Owen and Kitty started trying to get Noah and Emma together since 'Hello and Dubai'.
Owen and Noah mostly come second to Jacques and Josee.